A SAMPLE OF SUSAN'S CLIENTS
American Express
McDonald's
Salvation Army
OR Manager Conference
College of Optometry University of Houston
Working Woman Entrepreneurial Excellence Awards Conference
Sonora Quest Laboratories
Baptist Hospital of Miami, Imaging Services
Banner Thunderbird Medical Center
Katherine's Collection
American Healthcare Radiology Administrators Conference
The Better Business Bureau, Phoenix
Arizona Society for Human Resources Management State Conference(SHRM)
Arizona Governor's on Tourism
Scottsdale Unified School District
Pinnacle Education
City of Richmond Police Department
Valley Radiologists Ltd.
Scottsdale Chamber of Commerce
Western Association of Convention and Visitors Bureaus
Yuma Visitors Bureau
London Bridge Resort
World Academy for the Future of Women: Sias University/China
CASE STUDY: ARUBA TOURISM AUTHORITY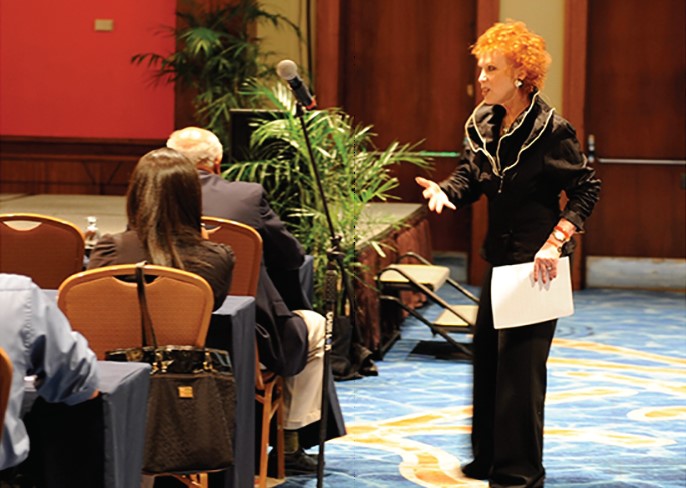 The Aruba Tourism Authority invited Susan to 'secret shop' the entire island from the visitor's point of view. The results were eye-opening! Susan then integrated her findings into a presentation delivered at the annual ATA meeting for all the tourism-focused business and community leadership, which in Aruba is practically everyone. She shared the results in a format that had a major impact, starting with the airport, including hotels, and all retail shops and outlets.

This presentation definitely challenged former perceptions with reality. Susan encouraged the success stories, gave practical solutions for each business to implement, and created customer service training programs for businesses in need.
Susan's robust and dynamic presentation included:
Winning companies, individuals, and destinations were highlighted in the presentation and given awards specific to their accomplishments.
Challenges were isolated and addressed in practical formats for training consideration.
Strategic goals were created and aligned with the best interest of the national economy, business owners, employees, and customers.
Island-wide customized training programs were then developed by Susan incorporating these results to directly address the 'customer experience' at the street level.
HERE ARE A FEW OF SUSAN'S SERVES YOU RIGHT!® REVIEWS
MEDICAL INDUSTRY
"In every quantitative measure--Patient Satisfaction, Client Satisfaction and Employee Satisfaction--our scores have increased! As important as these scores are, equally as impressive is the much better understanding amongst our staff of just what service enthusiasm entails. Our front line coordinators now have valuable tools and insights into becoming effective leaders. Thank you, Susan."

RON PEARSON, DIRECTOR PATIENT SERVICES
SONORA QUEST LABORATORIES
"WOW! Susan Brooks 'knocked our socks off!' The whole staff is buzzing with positive activity, the smiles are contagious. Susan gave us the 'shot in the arm' we so badly needed. Our job now is to continue the momentum Susan started, implement her ideas and teachings, and share the enthusiasm with our patients, students, faculty, and staff."

DALENE JOHNSON
UNIVERSITY OF HOUSTON COLLEGE OF OPTOMETRY
"Valley Radiologists Ltd. ability to consistently deliver superior service to both its external and internal customers is the most critical and elusive component of establishing long term patient relationships. Susan brought us the motivation and team building expertise we needed. She brought innovative and effective ways for us to achieve service excellence in medical imaging. Susan's creativity, leadership, and inspiration are unparalleled!"

LEIGHA RENNER, DIRECTOR OF PRACTICE MANAGEMENT AND DEVELOPMENT
VALLEY RADIOLOGISTS LTD.
TOURISM AND HOSPITALITY
"Susan is an amazingly dynamic speaker! She is that rare combination of a powerful presenter who speaks from personal experience! Her lively hour-long presentation to an audience of more than 300 people kept the crowd energized and attentive. She engaged the audience in extrapolating her ideas to apply to their own situation that they could immediately initiate. People loved her!"

MARY ANN MILLER, PRESIDENT/CEO
TEMPE CHAMBER OF COMMERCE
"Susan's positive energy has left a remarkable footprint in the minds and actions of our team members. She is a tenacious and high energy speaker who's keynote presentation was inspirational and motivational. Followed by the intense leadership training, Susan provided an intense practical with simple real-life approaches to everyday management struggles."

CAL SHEEHY, GENERAL MANAGER
LONDON BRIDGE RESORT
EDUCATION
"Thank you, Susan, for your outstanding Service Enthusiasm presentation to our leadership team. Your expertise and words of encouragement will inspire us to continue to strive for our vision of exceptional customer experiences for our students, parents, and staff. You re-energized us."

DR. JOHN BARACY, SUPERINTENDENT
SCOTTSDALE UNIFIED SCHOOL DISTRICT
"Our leadership team wanted to bring a service-driven culture to our schools. Susan was the megaton explosion of energy and enthusiasm we needed! Using her unique and dynamic strategies, Susan created a safe place for our leadership team, as well as a resource for me as the CEO. Susan is a high-level thinker, who is not afraid to ask the tough questions. If you are looking to bring life to your organization and to help your team grow, I highly recommend Susan. Hold onto your hats when you do…"

MIKE MATWICK, PRESIDENT/CEO
PINNACLE EDUCATION CHARTER SCHOOLS
UNIQUE INDUSTRY CLIENTS
"Susan's work with our Senior Command Staff has gotten us moving in the right direction towards becoming a better customer service organization…not only for our external customers, but for our internal customers as well. We are on our way to becoming a world-class police department and we have Susan to thank for helping us get there!"

COLONEL JERRY OLIVER, CHIEF OF POLICE
RICHMOND POLICE DEPARTMENT
"Susan's positive attitude as well as her expertise is highly contagious! She has the ability to warm up the coldest of groups and not only interact with them but to also have them interact with her and each other. Aside from Susan's natural gift to motivate, the amount of research, knowledge, and information she brings to her presentation was profound. Susan 'Serves You Right!'"

KATE KLESKI, PRINCIPAL
KATHERINE'S COLLECTION

"I really appreciated the terrific job Susan did speaking to our team. She captivated the audience and motivated them to really think about how we can best 'astonish' the customer."

JAMES JOHANNESEN, REGIONAL VICE PRESIDENT
MCDONALD'S


© 2019-2021 SUSAN L. BROOKS | ALL RIGHTS RESERVED

Privacy Policy