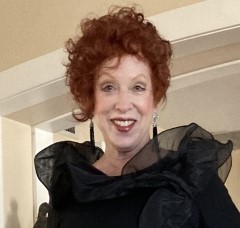 Today, I am 75 years old, and proud of it! Paul Simon, who is now in his 80's said it best years ago: us boomers were BORN AT THE RIGHT TIME!
Yes, I was born at the right time! I'm still a hippie from the 60's, I marched for civil rights for all humans, equal rights for women, waving my bra with the best. I am proud to be living and growing in a robust marriage of 55 years. I survived motherhood, and so did my now-adult children. I was an award-winning woman business owner when there were but a few of us. I've learned a whole bunch of lessons, and more importantly, I've earned my fair share of Wisdom, too. I am Pro-Age!
According to Chip Conley, one of today's leading thought leaders: "Experience is making a comeback. Wisdom never grows old." Chip created the hallmarks of the Modern Elder*: "learning to marry wisdom and experience with curiosity, cultivating a beginner's mind so that learning never ends, exemplifying a willingness to evolve both as a student and sage." Research shows that shifting our mindset about Aging can add 7.4 happy years to a person's life.
Proud to say that I am on my way as an MEA Graduate as well as an active participant in Wise Aging: Living with Joy, Resilience, and Spirit programs. As one of the creators and hosts of the Thrive@55 event, we celebrated our female community leaders who were 55+.
As long as I'm able to see the sunrise every morning and keep a curious mind, there's more living to do, so much more to learn, and so many new ways to serve. Trailblazer that I am, and always will be, I recognize my next mission: by example and demonstration I am committed to Changing the Face of Aging: One Modern Elder* at a time!
| | |
| --- | --- |
| | I welcome both local and national speaking engagements as well as one-on-one coaching opportunities to delve more deeply into navigating your life transitions. |
* Chip Conley, best-selling author and speaker, hospitality entrepreneur and leading thought leader, created The Modern Elder Academy's mission "to inspire the ability to reframe a lifetime of experience and recognize one's mastery, relevance, and value in the modern workplace." (www.modernelderacademy.org). The Modern Elder* is Conley's term and effort that 'liberates and inspires us to embrace wisdom as a path of growing whole, not old.'